Blennies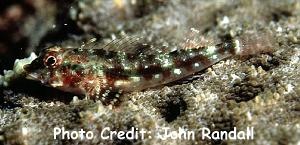 Photo Credit: John Randall
These fishes belong in the Order Perciformes and Suborder Blennioidei where they are members of the Family Blenniidae, which contains 53 genera and 345 species. Only about 45 genera have species of interest to aquarists. They are represented in all seas with species also being found in brackish and freshwater.
Some have no scales or they are very small and primitive. Most lack a swimbladder or have a very small one, and have a slimy body instead of scales. Their mouth is situated low on the head and the dorsal fin is continuous. Most are bottom dwellers and many species are herbivores. Some species have cirri on the margins of the anterior nostrils and are sometimes called comb-tooth blennies, except for those in the tribe Nemophini. As for those, they are free swimming carnivores, often called sabre-tooth blennies.
Those in the genus Meiacanthus have poisonous flesh as a defense against predators. As for those in the genus Plagiotremus, they sometimes mimic Meiacanthus species, as does Aspidontus taeniatus, which mimics the cleaner wrasse Labroides dimidiatus. They are then capable of nearing a target fish at cleaning stations and biting a piece of flesh from their prey.
The following genera contain an assortment of interesting, yet sometimes not valid species for home aquaria, and range from those normally seen in the trade to those that may show up in the future. Some are quite colorful, peaceful, hardy, and generally inexpensive. Others have venomous fangs and prey on small invertebrates and other fishes.
All will fiercely defend their territory, yet I have never seen the loser in territorial battles to really be the worse for wear. Many of those of interest are herbivores, making them highly desirable in closed systems where certain types of algae may be unwanted. All are fun to watch, and can be kept in the reef or fish-only aquarium.
Please click on the species you are interested in viewing.
Aspidontus

Atrosalarias

Cirripectes

Ecsenius

Exallias

Helcogramma

Istiblennius

Labrisomus

Meiacanthus

Ophioblennius

Parablennius

Petroscirtes

Pholidichthys

Plagiotremus

Salarias

Scartella

Tripterygion
Key to Symbols:

Suitable for Reef Aquariums


NOT Suitable for Reef Aquariums


Suitable for Fish-Only Aquariums


NOT Suitable for Fish-Only Aquariums


Avoid this nuisance species!