Algae (Red)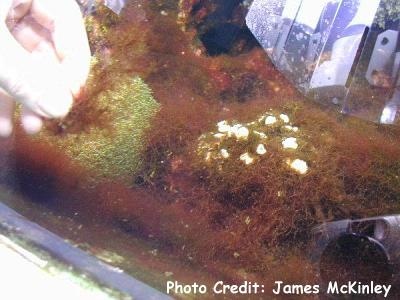 Photo Credit: James McKinley
The Division Rhodophyta is the largest group of tropical reef algae/plants consisting of over 5000 species. Some of these species contribute to reef building (such as coralline), some serve as a food source, few can add beauty to the aquarium, and some are troublesome. Whether they can be considered beneficial or unwanted depends upon the species being discussed below and how its cared for.
The pigmentation of these algae consists of beta-carotene, chlorophyll -a and c, and phycoerythrin. The cell walls are made up of cellulose and pectin compounds along with sometimes calcium carbonate and when so, they are called coralline algae.
As for the genera Gracilaria and Halymenia, they probably contain the prettiest of all red algae. They usually show up attached to live rock and can serve as decoration, a valuable foodstuff for herbivores or a way to export nutrients. They grow upright and usually form large masses of fronds. I've found some of those in these genera quite sensitive to slight changes in water chemistry. Just what those elements or compounds may be, I'm not sure but have seen perfectly good specimens quickly disintegrate overnight, even when there were no apparent changes to water quality. Therefore, trace element additions are advised if the goal is keeping any of these species, or in fact, any other 'red' forms of alga. Monitor calcium levels, as anything below 400 mg/l also seems to have a negative effect on them.
Also showing up in the trade sometimes is Botryocladia botryoides, a red bubble or grape algae that is quite stunning. Beautiful would be an understatement, but I found it also difficult to maintain long-term.
Finally, the red bubble algae Botryocladia skottsbergii is the most devastating form of bubble alga I've ever seen. Be sure to check it out below.
Please click on the Algae (Red) group you are interested in viewing.