Jacks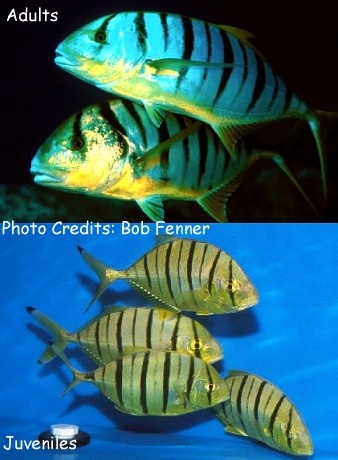 Photo Credit: Bob Fenner
These fishes belong in the Order Perciformes and Suborder Percoidei as members of the Family Carangidae (Jacks) consisting of 4 Subfamilies, 32 genera, and 140 species.
Only one specimen of interest comes to mind in this category and that is the small, quick moving golden colored, black barred fish often seen in store aquariums. The juveniles often seen in stores get quite large and are not suited for the average home aquarium. As they grow larger they turn a silvery color and can easily weigh in at thirty pounds. The will take a wide variety of meaty foodstuffs, including ornamental crustaceans and small fishes. They escort larger fish, hence their name Pilotfish. They do school and require lots of swimming space.
Please click on the species you are interested in viewing.
Key to Symbols:

Suitable for Reef Aquariums


NOT Suitable for Reef Aquariums


Suitable for Fish-Only Aquariums


NOT Suitable for Fish-Only Aquariums


Avoid this nuisance species!