Arrow/Spider Crabs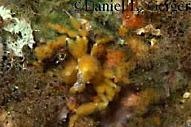 Photo Credit: Daniel Geiger
This spider-like crab is one of the more interesting crabs for use in marine aquariums. Since they are very aggressive towards each other, only a mated pair can be kept together. They should not be kept in any aquarium that contain feather dusters or tubeworms. Worm steak is always on their menu. I have even seen them snip off a piece of mushroom polyps. Otherwise, they appear to be fairly safe in the reef environment. They are also good small bristle worm consumers. Those seen in the trade usually hail from the Caribbean and the coast of Brazil, however the species is also found in the Eastern Atlantic and Pacific Oceans.
There are other species in this family, some not suited for the aquarium and they will be shown when they become available.
Please click on the species you are interested in viewing.
Key to Symbols:

Suitable for Reef Aquariums


NOT Suitable for Reef Aquariums


Suitable for Fish-Only Aquariums


NOT Suitable for Fish-Only Aquariums


Avoid this nuisance species!