Natural Reef Aquariums
Authored by: John H. Tullock
A review by Bob Goemans
TITLE: Natural Reef Aquariums
AUTHOR: John H. Tullock
PUBLISHER: Microcosm Ltd.(1997)
ISBN 1-890087-00-9
PAGES: 336
PRICE: $29.95 (Softcover)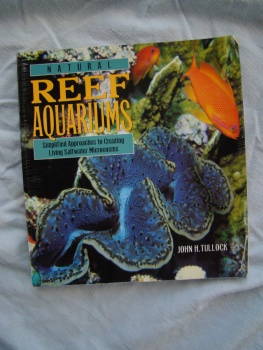 For those who have read John's previous books, you will find "Natural Reef Aquariums, Simplified Approaches to Creating Living Saltwater Microcosms" an absolute must for your marine library bookshelf. Not only is the quality of paper, art work, photographs, editing, and layout of the work superb, but John Tullock has taken us forward with a realistic approach in creating simple, yet healthier reef systems. John shares his many years of experience in a easy to understand format that is designed to provide inspiration for both beginning and expert marine hobbyists.
The book begins with a "Foreword" written by Martin Moe. As Martin states, "Less Technology, More Biology that John espouses will help to preserve the hobby and the coral reef environment well into the next century." How true!
Following the brief "Foreword," there is a page dedicated to "Acknowledgments" that pays tribute to those who have contributed to John's interest in marine science and have provided the stunning color photographs that fill the book. Just prior to the first Chapter, there is some insight to John's past in the "Preface" that the reader will find quite interesting.
"Natural Reef Aquariums," is presented in three Parts containing 14 chapters. The book closes with an Epilogue, References, and more "About The Author." Part 1 is devoted to "The Natural Aquarium." It encompasses Chapters 1 - 5, i.e., Less Technology, More Biology; Systems: The Choices & the Basics; The Living Filter; Aquarium Lighting; and, Maintenance & Troubleshooting. Part 2 is titled "Reflecting The Wild Reef." It is comprised of Chapters 6 - 12, i.e., Marine Habitats of the Florida Keys & Caribbean Sea; The Gulf of Mexico; Indo-Pacific Reefs: Diversity's Motherlode; Indo-Pacific Deep Reefs & Caves; Marine Fishes; Disease in the Reef Aquarium; and, Feeding the Captive Reef. Part 3 takes up the remaining 2 Chapters. They are: Captive-Propagated Fishes & Invertebrates; and, Species of Concern.
All-in-all, the author is a respected force in our hobby and his work presents an exceptional effort to disseminate techniques for creating simpler, yet more realistic living reef aquariums. I must also add that Microcosm Ltd, in combining the Authors work and over three hundred color photographs and illustrations have presented the reader an unsurpassed value! Well written, quite informative, beautifully illustrated, a quality publication, priced right, and I could go on and on. Get a copy, you'll be happy you did!
Back