Damselfishes of the World
Authored by: Dr. Gerald R. Allen
A review by Bob Goemans
TITLE: Damselfishes of the World
AUTHOR: Dr. Gerald R. Allen
PUBLISHER: Mergus.
ISBN 3-88244-008-2
PAGES: 271
PRICE: $48.00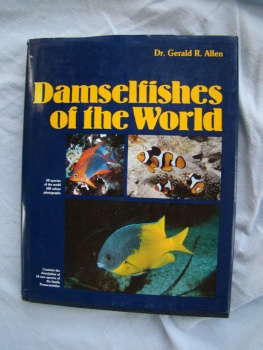 If you want to maintain a comprehensive library, you will want to have this book. This exhaustive work provides an excellent overview of the family Pomacentridae which includes clownfish as well as regular damselfishes. Damselfishes of the World is a superior graphic reference and is another of Dr. Allen's contributions to the aquarium community.
The book begins with a brief overview of the damselfish family which includes short sections on behavior, sociability, coloration, ecology, zoogeography, distribution, and classification of damselfishes. The main portion of the book is devoted to a pictorial review of over 300 species with each containing specific information on their distribution, size, habitat, depth, and taxonomic characters. There is also a series of nine Tables which list Distribution, Depth, Temperature Range, Dominant Natural Food, Length of Fish in Nature, Minimum Size Aquarium for Adults, Availability, Difficulty to Maintain, and the page number of the book where you can find a color photo of the fish.
Immediately following the nine Tables, there are two short sections on "Anemones and their Fishes," and "Breeding Anemonefishes." The book concludes with three Appendices. The first is devoted to "New Species Descriptions" and includes sixteen new species. Appendix II is devoted to "A checklist of valid pomacentrid species and their synonyms." A very short "Glossary of Ichthyological Terms" makes up Appendix III. Besides the wealth of information already noted, there is an Index of common names that alone is almost worth the price of the book. Damselfishes of the World is a must for any serious hobbyist!
Back