Marine Plants of the Caribbean, A Field Guide From Florida To Brazil
Authored by: D. Littler, M. Littler, K. Bucher, and J. Norris
A review by Bob Goemans
TITLE: Marine Plants of the Caribbean, A Field Guide From Florida To Brazil
AUTHOR: D. Littler, M. Littler, K. Bucher, and J. Norris
PUBLISHER: Airlife Publishing Ltd.
ISBN 1-85310-084-6
PAGES: 263
PRICE: $19.95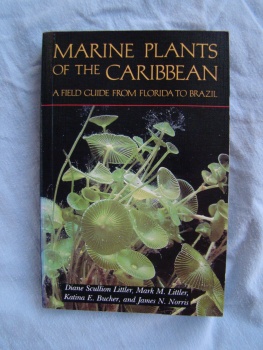 This is, without a doubt, one of the very best books for identifying marine algae that has ever been printed. If you have ever tried to identify that green, brown, or red type algae growing in your aquarium, then you would know just how difficult it is to find the answer. Not any more! This book contains well over one hundred excellent color photographs, supporting text for each photograph, and describes not only most of the commonly found algae, but also some we rarely see.
The Introduction section serves to set the scene for the general Caribbean area, i.e., history of the area and algae/plant identification traits. The next seven chapters: Green Algae, Brown Algae, Red Algae, Diatoms, Blue-Green Algae, Dinoflagellates, and, Flowering Plants describe almost everything in the way of algae/plants that will interest the hobbyist. The closing chapter on "Underwater Photography and Collecting" rounds-out this great work, and makes it a perfect "Field Guide." A short References, Glossary, and Taxonomic Index complete this excellent work of art. I highly recommend this book for your aquarium library shelf.
Back