Captive Seawater Fishes: Science and Technology
Authored by: Stephen Spotte
A review by Bob Goemans
TITLE: Captive Seawater Fishes: Science and Technology
AUTHOR: Stephen Spotte
PUBLISHER: John Wiley & Sons, Inc. (1992)
ISBN 0-471-54554-6
PAGES: 942
PRICE: $95.00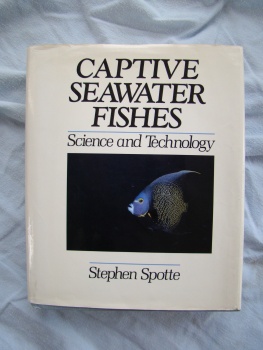 If you have had the pleasure to read/own the authors other fine works, i.e., Fish and Invertebrate Culture: Water Management in Closed Systems; Marine Aquarium Keeping: The Science, Animals, and Art; Seawater Aquariums: The Captive Environment, you will find this a well worth the price addition to your reading pleasure/library. The book is illustrated with a large number of charts/line drawings and numerous color and black and white photographs. The beauty of the book is not in the photos, but in the extensive data which the author focuses upon in an elegant manner. Once I started looking through the pages of this well written book, I knew the dedicated hobbyist, whether into fish only or reef aquaria, must make room on their library shelf for this most informative work. Even though much of the book pertains to what the title states, it co-exists with much information which the reef keeper will find enlightening/useful.
Chapters 1, 2, and 3 looks at the chemical, biological and physical processes which pertain to closed systems. In these chapters alone, subjects relating to "Carbonate Rocks and Materials," "Mineralization," "Dissimilation," "Assimilation," "Design of Denitrification Systems," "Design and Maintenance of Seaweed Filters," and "Foam Fractionation" to name just a few, will provide both the intermediate and well experienced reef keeper and fish only hobbyist comprehensive and valuable data. Chapters 4 through 9 take you through fish physiology, sensory perception, behavior, space requirements, nutrition and health. Chapter 10 details the methods of fish exhibition, underwater optics and color, angles of reflection and refraction, and photographic techniques.
Dr. Spotte, a marine biologist, is author or co-author of seven books and more than sixty scientific articles on aquaculture, seawater chemistry, marine environmental physiology, and coral reef ecology. He has served as director of Aquarium of Niagara Falls and Mystic Marinelife Aquarium and curator of New York Aquarium. He presently is Director of Research for Sea Research Foundation and a research scientist at the Marine Sciences Institute of the University of Connecticut. This is an outstanding reference source, and I highly recommend it even though it is highly technical in nature. With patience and fortitude, your absorption of this substantial information source will reflect in the beauty of your aquarium.
Back