The New Marine Aquarium, Step-By-Step Setup & Stocking Guide
Authored by: Michael S. Paletta
A review by Bob Goemans
TITLE: Ultimate Marine Aquariums, Saltwater Dream Systems And How They Are Created
AUTHOR: Michael S. Paletta
PUBLISHER: T.F.H. Publications/Microcosm (2003)
ISBN 1-890087-74-2
PAGES: 192
PRICE: $39.95 (Hardcover)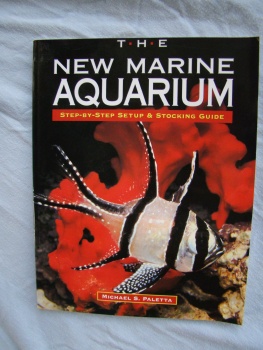 Do you want something quite different for your library shelf? Would you be interested in seeing color photos of many very successful marine aquariums? Would you like their related and detailed parameters such as size, system setup procedures, circulation, controlling devices, filtration, lighting, chemistry, livestock, feeding, and other related information? Of course you would!
In this noteworthy work the Author has profiled 50 world-class aquariums, each containing the above-mentioned specifics along with how they were planned, kept healthy and what problems they may have faced and/or how they were resolved. This information alone is extremely valuable as it may help with the planning of your next system or that of correcting possible faults with an existing system. Combine this with over 150 full-color photographs of reef and fish-only systems, ranging from simplified natural systems to high-tech systems, and the benefits from owning this work should be obvious.
The work begins with a brief "Acknowledgments" section that pays tribute to all the individuals that contributed and made possible this fine book. Next, the "Introduction" section briefly expounds upon the Author's philosophy, past and present. It then notes how the origin for this work, finding a number of very conscientious almost fanatical marine hobbyists providing the ultimate level of animal and system husbandry in his travels in the United States, Canada, and Europe, led to this very comprehensive compilation of data and photographs. Also discussed here is an interesting and informative "Analysis of Parameters" that relates to the overall major subjects of interest, such as livestock, filtration, water movement and changes, control and monitoring systems, lighting, coral pigmentation, and other chemical and physical parameters. "The Ultimate Reef Aquariums" section follows, and depicts fifty marvelous marine systems that I'm sure will greatly interest all that read it! Among the noted systems are those by LeRoy & Sally Jo Headlee, Terry Siegel, Gregory Schiemer, Richard Harker, Bob Stark, Bruce Davidson, Larry & Laura Jackson, Morgan Lidster, Bob Mankin, Leng Sy, and David Saxby's wonderful aquarium, which I personally think is the worlds best hobbyist system! Many of these wonderful hobbyists provide their website addresses so you can forward your comments or questions. (A nice personal touch!) The work closes with "References" which includes Other Microcosm/TFH Titles; Index of Tanks, Owners & Designers; and, About the Author.
Ultimate Marine Aquariums, Saltwater Dream Systems and How They Are Created is well-written, extremely informative, beautifully illustrated, and reasonably priced, all making it an excellent addition to your home library.
Back