Clownfishes: A Guide to Their Captive Care, Breeding, & Natural History
Authored by: Joyce D. Wilkerson
A review by Bob Goemans
TITLE: Clownfishes: A Guide to Their Captive Care, Breeding, & Natural History
AUTHOR: Joyce D. Wilkerson
PUBLISHER: Microcosm Ltd. (1998)
ISBN 1-890087-04-1
PAGES: 240
PRICE: $29.95 (Softcover)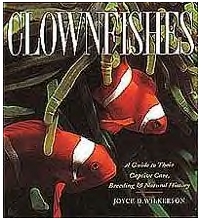 Even if Clownfishes were not your favorite fish, which would be hard to believe, this would be a book you'll enjoy reading. For those of you that have never had the pleasure of meeting Joyce, she brings her life-long, broad-based knowledge of clownfish husbandry to the reader in an easy-to-understand format. Her sense of humor and straight-out honestly in this well-written text combined with over 150 color photographs, illustrations, and diagrams are alone worth the price of the book. The book begins with a "Foreword" written by Tom Frakes. As we all know, Tom was a pioneer in clownfish propagation during his early years with Aquarium Systems as the research director of Instant Ocean Hatcheries. As Tom states, "Her work fulfills a long-felt need to bring this accumulated advice and wisdom together in an accessible way." How true! And with it, it brings the acquired knowledge of a lifetime of clownfish husbandry right to your fingertips.
Following the brief "Foreword," there is a page dedicated to "Acknowledgments" that pays tribute to those who have helped Joyce write and publish her book, including the Microcosm staff that brought her manuscript to life, and those that provided the stunning color photographs that fill the book. Just prior to the first Chapter, Joyce begins with an "Introduction" titled "All The World Loves A Clown." It provides the readers some personal background that we hobbyists can associate with. I think you'll find it quite realistic!
The bulk of the text is presented in three Parts. The book closes with "Sources & Contacts," "Selected Bibliography," an in-depth "Index," and "About The Author."
Part I is devoted to "The Clownfishes & Their Anemones." It encompasses two chapters. Chapter 1, A Natutral History; and Chapter 2, Species Selection. They provide information on the clownfishes' environment in nature and their symbiotic relationship with their host anemones.
Part II is titled "The Clownfish Aquarium," and consists of three chapters. Chapter 3, The Broodstock Aquarium; Chapter 4, Anatomy, Physiology & Disease; and, Chapter 5, Foods & Feeding. The mechanics of setting up a simple clownfish aquarium and general husbandry parameters are discussed.
Part III is titled "Breeding & Rearing." It contains five chapters. Chapter 6, Clownfish Reproduction; Chapter 7, Spawning; Chapter 8, Live Food Cultures; Chapter 9, Managing Eggs & Larvae; and, Chapter 10, Metamorphosis & the Juvenile Period. The contents are self explanatory, however the last Chapter provides Joyce's 10 tips for marking that you may find very helpful.
All in all a well-written and informative book. Microcosm Ltd. has again supplied the reader a beautifully illustrated, high quality publication that is reasonably priced.
Back