The Conscientious Marine Aquarist
Authored by: Robert M. Fenner
A review by Bob Goemans
TITLE: The Conscientious Marine Aquarist
AUTHOR: Robert M. Fenner
PUBLISHER: Microcosm Ltd.(1998)
ISBN 1-890087-02-5
PAGES: 432
PRICE: $34.95 (Softcover)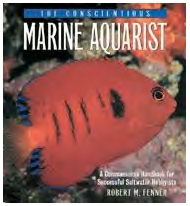 For those who have read Bob Fenner's articles in various magazines, you'll find "The Conscientious Marine Aquarist" an absolute must for your marine library bookshelf. Crammed with up-to-date information, a well organized/well written text and hundreds of excellent quality color photographs. Subject matter pertains to aquarium size/shape, setting up, general equipment, water quality, aquarium conditioning, selecting fish/invertebrates, maintenance, nutrition and diseases. All are discussed in terms that even the neophyte will find very helpful. The book begins with a "Foreword" written by Christopher Turk. As Chris states, "What is in these pages is a carefully condensed, readable version of the uppermost slice of the total encyclopedia of Bob Fenner's knowledge." How true! And with it, it brings the ethics and curiosity of a marine ecologist to the home aquarium field.
Following the brief "Foreword," there is a page dedicated to "Acknowledgments" that pays tribute to those who have contributed to Bob's interest in marine science, the Microcosm staff that brought his manuscript to life, and those that provided the stunning color photographs that fill the book. Just prior to the first Chapter, there is some insight to Bob's past in the "Introduction" that the reader will find quite enlightening.
"The Conscientious Marine Aquarist," is presented in three Parts. The book closes with "References," and "About The Author."
Part I is devoted to "Demystifying The Marine Aquarium." It encompasses the basics as to technology and husbandry in setting up and maintaining marine aquariums.
Part II is titled "Fishes For The Marine Aquarium," and dedicates approximately 150 pages to the selection and care of many different species.
Part III is titled "Marine Invertebrate." It pertains to the selection and care of Sponges, Cnidarians, Fanworms and Feather Dusters, Mollusks, Crustaceans, and Echinoderms.
Microcosm Ltd. has again presented the reader an unsurpassed value! Well written, informative, beautifully illustrated, a quality publication, and priced right. Get a copy, you'll be happy you did! In fact, this is a book that deserves to be in every pet store book
Rack and would make a good gift to those thinking of getting into the hobby.
Back