MoonShine
Manufactured by: Marc Weiss Companies
A review by Bob Goemans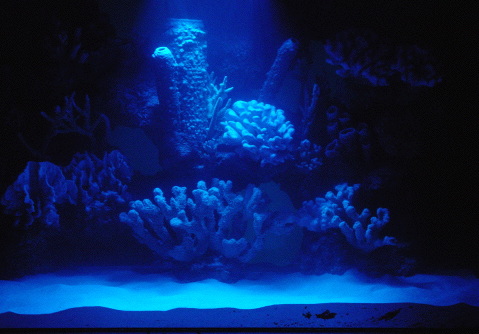 (Written in 2003)
Product Review - MoonShine
When Marc Weiss called and asked if I was interested in checking out his new product called "MoonShine" I replied yes, send me a gallon. He laughed and said it wasn't something to drink, but a new and very intense light for illuminating the nighttime aquarium. Well of course I was interested and he sent two for my review.
One immediately went over my new column shaped reef tank and the other is being used to illuminate the wall mural in my office. As you can see from the attached photos, the lamp is small, yet extremely powerful as shown in the other photo, where a MoonShine lamp is over an aquarium in the home of a business associate.
I've been fortunate enough to have tested the first two moon lights that have come upon the market during the past two years, however, neither can compare with MoonShine! In fact, there's been much talk about LED (light emitting diodes) this past few years, however, this lamp uses something different, a miniaturized hybrid phosphor light source, which produces an extremely intense light considering it uses only 'one' watt of energy! No, that's not a typo, it only uses one watt! As you can see in the attached photo, it easily penetrates to the bottom of this fairly deep aquarium and has a very wide angle of dispersion. In fact, the lamp and the technology were recently demonstrated at the first IMAC Marine Conference in Chicago. Everyone was amazed with its intensity and the very wide area the lamp would effectively illuminate.
This state-of-the-art lighting technology also produces little heat, approximately eight-six degrees. And its spectrum is an actinic-like blue that falls into the 470 - 480 nanometer ranges, which duplicates actual moonlight.
MoonShine has a small circular base measuring 2.5 inches in diameter, which in turn has three small slotted holes for mounting over the head of a screw. It also comes with three excellent quality suction cups already installed in those holes should you want to simply place it on a smooth surface where screws would be a problem, such as a glass or acrylic surface. Its narrow 4.0-inch long flexible PVC column makes it very easy to focus the light in any direction, and its twelve-foot lightweight electrical cord attaches to a small DC transformer, making it convenient to locate some distance from the usually crowed outlets behind many aquariums. I should also add that depending upon where they are marketed, the DC transformer would be a 120 VAC (60Hz) or a 230VAC (50Hz) power supply.
My aquarium MoonShine is on an electric timer that turns it on about 15 minutes prior to the aquarium's main light source going out, and then turns off at sunrise the following morning. Colors such as reds and greens are intensified under this lamp, and the aquarium takes on added interest. The mural light is also on a timer and comes on in the early evening and then off in the early morning hours. Visitors just love the effects from both MoonShines! Sometimes in the late evenings I have to yawn six times before they get the idea its way past my bedtime!
Of course MoonShine is just great for the reef aquarium, but they would also make good additions over fish-only aquariums and can also be used over freshwater aquariums. And for those of us who use metal halides and that are familiar with glitter lines, MoonShine is intense enough to duplicate this shimmering effect in the nighttime aquarium! In fact, the light environment of your aquarium will not be much different than what you would see if swimming through a moonlit lagoon.
For very large aquaria, Marc Weiss Companies have a 24 inch compact strip reflector called the "Magnum' which contains two MoonShine emitters. Which of course uses a whole 'two' watts of energy! MoonShine and Magnum products are warranted for one year, however, I'm told their lifetime can easily surpass five years. For further details contact Marc Weiss Companies at 5935 Ravenswood Road, E20, Ft. Lauderdale, Florida, 33312, Phone 954.894.9222, fax 954.894.9226, www.marcweissco..co.
But one warning - be prepared for some late nights!
Back