Litermeter III
Manufactured by: SpectraPure
A review by Bob Goemans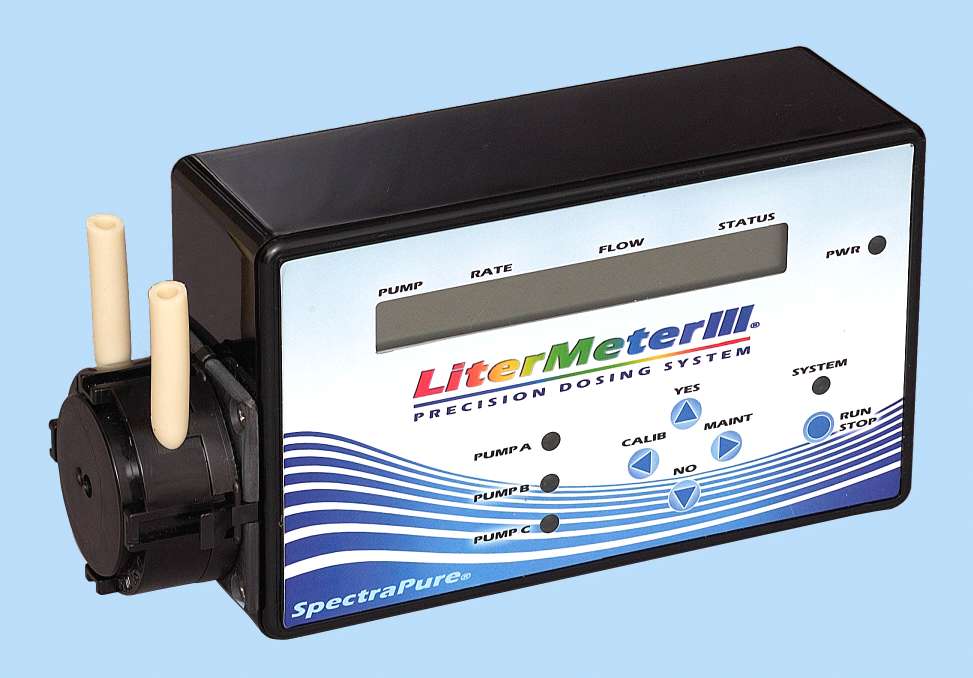 Product Review - SpectraPure LiterMeter III
(Written in 2003)
Back in 1997 I reviewed a new SpectraPure product called 'The Liter Meter Precision Dosing System.' It was by far the most accurate dosing device I had ever seen. Now, almost five years later a 'second generation' LiterMeter comes to market and the upgrades to the original design are quite amazing! Now called LiterMeter III because it can control three peristaltic pumps (one internal and two optional external pumps), it remains an extremely accurate device, yet is now able to handle an assortment of additional 'intelligent' tasks.
There are so many changes to the original device that I don't know exactly where to start, but let's begin with its size, which is now slightly smaller. LiterMeter III has a footprint of 7.5 x 2.2 inches and only stands 3.7 inches high. There are no longer any thumbwheels where spilled water or salt creep can get inside, as the unit is now completely encased, and has a plastic membrane touch sensitive control panel. That alone is a welcomed major change! Its internal pump is powerful enough to draw water from an area ten feet below it and pump to a height 16 feet above it. And LiterMeter III can be programmed to deliver anything from one ounce to 26 gallons per day. And it does so by delivering the chosen daily amount in 150 equal doses per day, thereby eliminating human error when it comes to adding too much at any one time.
LiterMeter III is powered by a 120 VAC (60Hz) power supply and will not forget its settings even if there is a power outage. It only uses 6 watts of electricity when operating a pump and for those requiring a 230VAC (50Hz) power supply, that is also available. And if necessary, it can also be powered by a 12VDC battery.
The original Liter Meter had a side located jack for an optional float, however, LiterMeter III has 'three' side located jacks for optional devices. While LiterMeter III is dispensing makeup water to compensate for daily evaporation with its internal pump, two of its side jacks can power other optional pumps that can be programmed within LiterMeter III to dispense a two-part calcium and buffer solution. (One pump for each container.) Or, control the delivery of Kalkwasser and/or trace elements. All can be programmed to deliver the 'exact' amounts desired. Furthermore, LiterMeter III is immune to harsh chemical environments such as produced in Kalkwasser solutions, therefore ideally suited for delivering such products.
There's also an optional pump that will allow for a two-way water exchange! Just imagine accomplishing all water changes automatically! In fact, 150 times a day the programmed amount of aquarium water will be withdrawn with LiterMeter's internal pump. Then, the optional water exchange pump, connected to jack 'B' or 'C' will deliver the same amount withdrawn by the internal pump, from a supply vessel filled with fresh salt water. And, as for overflow protection, the optional pump has a 'very' sensitive internal air pressure switch that is connected to a device that sets just above the water level in the sump or aquarium. Should the water level rise into this tube-shaped device, its air pressure compresses ever so slightly and will disconnect power to the optional pump, thereby preventing any overflows. Once the pressure returns to normal, dosages continue. Depending on the size of the containers used, time spent on water changes can be 'greatly' reduced, and the animals in the system will never notice any salinity changes.
And, LiterMeter III can also be used to accomplish the more involved dosing regimen with Hydroponics systems. Two different nutrients can be metered and mixed in precise amounts to a reservoir and then delivered in very precise amounts to plants.
LiterMeter III has features only found on expensive laboratory pumps, such as a microprocessor control, LED operating lights, and non-volitile memory. It is also very quiet and contains a three-roller direct-motor drive that eliminates noisy gears and actually improves flow accuracy. This alone separates it from other dosing equipment on the market.
When I read the Installation and Operating Manual, always a good thing to do before turning anything on, I was amazed that LiterMeter III should be run 'dry' for an hour before using it for the first time. Honestly, have you ever read anything similar from another pump maker? But this immediately tells you something about the quality of this unit! Even if any of the supply containers were to run dry, LiterMeter III would simply keep on ticking without any damage! A comfortable feeling for many us who travel a lot.
When calibration time came, that's after the dry run of an hour, it was necessary to instill into its memory just how long it takes to pump 500 milliliters of a fluid. It's like sending the unit to school, as it needs to have that timeframe in memory so as to accomplish its various daily chores. That was a fairly simple task, which involved connecting the provided tubing and placing the intake tubing into a container holding some water and placing the end of outflow tube in a measuring cup that will hold at least 500 milliliters. Then, per the instructions, turn the unit on, then off when the 500 milliliters level is reached. The internal computer is now calibrated.
The next step is programming the desired daily amount into its internal computer, which again was a simple matter of following the programming instructions, all two lines, and placing the unit on 'run' status. From there on, 150 times a day, short run periods will deliver the daily desired amount.
And if you think all the capabilities mentioned above make this a very smart device, image a device that 'tells' you that an individual pump now has 500 hours of usage and you may want to inspect or service it! Not only does the unit beep once per minute when the times comes, it flashes a service message across its operational display window. And if continued pinpoint accuracy is desired, this may be a point to recalibrate the pump. Or, if satisfied with the performance, a simple push of a button resets the internal clock to 0000 hours and a new maintenance cycle begins. And of course, the unit will do so for each connected pump. Should the unit ever need service, the Installation and Operating Manual explains how to accomplish that and even shows a series of photos on how to disassemble the unit. If that's beyond the capabilities of its owner, which is actually quite simple, SpectraPure will be happy to recondition the unit for you as they standby any of their equipment.
SpectraPure was kind enough to send both the LiterMeter III and the optional two-way water exchanging pump for my review. Honestly, I was highly disappointed when it came time to return them! I found them everything they claimed and more. Quiet, dependable, accurate, and easy to program. Quality devices and for their capabilities, reasonably priced. And, LiterMeter III comes with a one year limited warranty.
When it comes to hobby related water conditioning products, SpectraPure is 'the' leader in the field. In fact, you can see some of my past product reviews of their equipment on my website at www.saltcorner.com. They also produce home and commercial water conditioning equipment. In fact, they have a 'paper' catalog of all their products, which can be mailed to your home, or you can contact them via email at: spectrapure.com or their website at: www.spectrapure.com. They are also available by phone at 800.685.2783 or fax at 877.527.7873. Retail price of LiterMeter III is about $340.00, with optional pumps about $120.00.
I have seen this company grow from a tiny one-man business to their present status of a leader in the field of water conditioning equipment. They have always had 'quality' equipment along with excellent customer service. I have also often visited their place of business, spoke to their employees, and have known their president Charles Mitsis for well over ten years. A high quality company with leading edge products and a team of professionals dedicated to satisfying their customers. You definitely want to checkout their RO, DI, dosing equipment and other fine products before making your next water conditioning product purchase.
Back