Water Quality Guidelines for Marine Aquariums
by Bob Goemans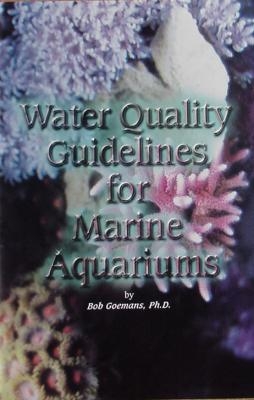 Book Description:


There are various building blocks, e.g., the aquarium itself; biological processes; lighting; filtration equipment; substrate; and, live rock that create a successful system's foundation. Yet, even though all the building blocks may be adequate, what goes on around them is also of extreme importance. If surrounding water is deficient in the elements/compounds needed by the occupying organisms, the investment in the building blocks has been wasted.

As mentioned in my first three booklets, published by another company, many aquarists considered healthy growths of micro or macroalgae an indicator of good water quality in the seventies and early eighties. In some ways that was correct, in other ways those growths may have become an annoyance. There's no doubt abundant growths of unwanted forms of algae have caused some aquarists to leave the hobby in disgust. It's the reason I dedicated my last booklet, Marine Algae Control Secrets to that subject. When it comes to the more important constituents of seawater, numerous books have dedicated portions of their text to that subject matter. Despite that I doubt whether the subject has ever been explained in an easy to understand format beginning with the freshwater used for evaporation makeup and water changes to the wide array of seawater constituents that are of major importance.

This booklet was also featured in Freshwater and Marine Aquariums (FAMA) in their January 2002 issue 'Showcase 2002' section:

" Water Quality Guidelines for Marine Aquariums' is written and published by Bob Goemans. This 64 page booklet covers a wide range of topics that will help maintain quality seawater in marine aquariums. It begins with a discussion on the freshwater used for preparing seawater salt mixes and/or evaporation make-up. Processing equipment is explained, as is the use of distilled and well water. Synthetic salt mixes and natural seawater usage is also discussed, as is salinity, specific gravity, conductivity, osmotic balance and applicable testing. Elements and compounds of importance are explained, e.g., Ammonium/ammonia, nitrite, nitrate, pH, phosphorus/phosphate, oxygen, carbon dioxide, alkalinity, calcium, magnesium, strontium, silica, iron, fluoride, bromide, iodine (including iodide, iodate and Lugols), boron, molybdenum, copper, and trace elements. The booklet closes with one of the most comprehensive tables of seawater elements ever published. An easy to read booklet that takes the mystery out of maintaining quality seawater in your aquarium."

Table Of Contents:


Foreword

Freshwater

Tap Water

Reverse Osmosis

Deionization

Distilled Water

Well Water

Water Softening

Chlorine/Chloramine

Seawater

Composition

Natural Seawater

Synthetic Seawater

Salt Content

Salinity

Specific Gravity

Conductivity

Osmotic Balance

Testing Specific Gravity

Elements and Compounds of Importance

Ammonium/Ammonia

Nitrite

Nitrate

pH

Phosphorus/Phosphate

Oxygen

Carbon Dioxide

Alkalinity

Calcium

Kalkwasser

Calcium Chloride

Chelated Calcium

Calcium Blocks

Testing Calcium

The Aragonite Solution

Magnesium

Strontium

Silica

Iron

Fluoride

Bromide

Iodine

Boron

Molybdenum

Copper

Ionic Copper

Chelated Copper

Trace Elements

Seawater Constituents

Closing

Availability:


If for some reason you have difficulty locating this booklet, please contact Bob.
Back