Natural Aquarium Secrets
by Bob Goemans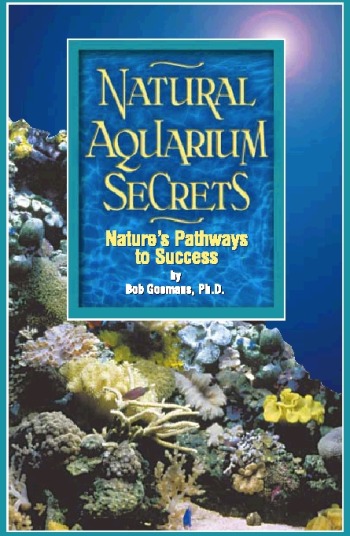 Book Description:


Are today's aquarists repeating the errors of those before them? Are some of today's methods simply re-hashed old, tried and failed methods with a slightly newer look or are they leading edge art and science tuned towards the closed system's environmental needs? Whatever your opinion, could be you'll see things somewhat differently after reading this booklet. And if you do I'm sure the animals in your aquarium will benefit because research has shown that with efficient usage of energy, whether that is light or chemical energy, system environments are much improved. And, that all depends upon the supply of that energy and the pathways it must travel.

Think of these pathways as the streets and roads that transport the 'energy' that link the entire maze of metabolic and chemical functions which are occurring in the aquarium. Keep in mind all aspects of the journey are important and interconnected because fundamentally they finally affect the microbe's health and ability to function/reproduce. It's they who actually control the wellbeing of the system. If this is to be accomplished we first need to look at light, water, and substrate pathways, as they are the main highways that lead to Camelot. Then look at those important microbial processes and how and why their functions are more preferred than those performed by infauna. And, let me say right here that the microbial processes are basically the same in freshwater and seawater. The only difference is the names of the players.

Thousands of my booklets have been sold worldwide and they continue to be in demand.

Table Of Contents:


Foreword

Light

Spectrum

C. I. E. Color Triangle

Chromaticity/Kelvin

Color Rendering Index

Watts

Lumens

Lux

Par

Intensity

Power Distribution Curve Chart

Water

The Substrate World

Substrate

Silica Sand

Dolomite

Calcite

Crushed Coral

Crushed Oyster Shell

Coral Sand

Industrial Sand

Oolitic Sand

Aragonite Sand

Halimeda

Sand Grain Size

Live Sand

Shallow Sandbeds

Deep Sandbeds

Sand Clumping

Live Rock

Sediment Processes

Balance

Camelot

Hearsay and Misinformation

Closing

References

Availability:


If for some reason you have difficulty with finding this booklet, please contact Bob.
Back