Marine Algae Control Secrets
by Bob Goemans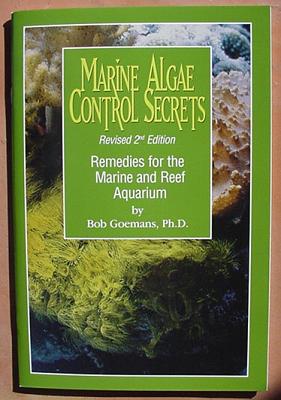 Book Description:


Marine algae - some aquarists cultivate it, some curse it. In the seventies and early eighties most aquarists considered healthy growths of micro or macroalgae an indicator of good water quality. In some ways that was correct. In other ways, those growths may have become an annoyance. In fact, there's no doubt that abundant growths of unwanted forms of algae have caused some aquarists to leave the hobby in disgust.

Numerous books have dedicated portions of their text to marine algae. Nevertheless, I doubt whether the subject matter of "causes and control" has ever had the focus as appears in this booklet.

Thousands of these booklets have been sold worldwide and they continue to be in demand. To maintain the low purchase price of this Revised 2nd Edition there will not be any photos. However, to see most of the alga discussed and other interesting species, along with photos of the specific species that can be used to naturally control or eradicate it, visit my non-profit website www.saltcorner.com and checkout the Marine Aquarium Library.

Table Of Contents:


Foreword

The Plant World

Beneficial Species

Caulerpa

Calcareous Algae

Red Algae

Zooxanthellae

Unwanted Algae/Bacteria Mats

Hair Algae

Slime-like Growths

Turf Algae

Bubble Algae

Brown Diatom Algae

Dinoflagellates

Green Microalgae

Contributing Factors

Water Quality

Tap Water

Well Water

Reverse Osmosis

Deionization

Distilled Water

Nutrients

Phosphorus/Phosphate

Ammonia

Nitrate

Silica

Iron

Molybdenum

Water Movement

Light

Live Rock

Aquascaping

Filtration

Overfeeding/Overcrowding

Herbivores

Checklist

Causes

Remedies

General Controls/Comments

Diatoms

Dinoflagellates

Cyanobacteria

The "Almost" Algae-Free Aquarium

Biological Filtration

Chemical Filtration

Spectrum & Intensity

Bio-load

Closing

Bibliography/Further Reading

Availability:


If for some reason you have difficulty with finding this booklet, please contact Bob.
Back