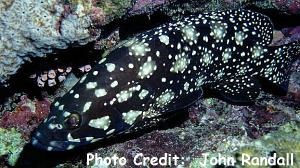 Epinephelus summana


(Forsskal, 1775)
Summan Grouper
Not Reef Tank Suitable
Not Suitable for Fish-Only Tank
These fishes belong in the Order Perciformes and the Suborder Percoidei as members of the Family Serranidae (Groupers & Anthias) which consists of 3 subfamilies, 62 genera, with 450+ species.
Many folks consider groupers among the most friendly of fishes. Friendly to the aquarium keeper that feeds them, however not other fishes that are small enough to be swallowed. Some groupers are more or less motionless animals waiting for prey to come close enough to be captured by a short lunge and inhalation of the prey. They are amongst the largest of fishes, e.g., the Potato Cod at 900 pounds, with some capable of reaching ten feet. Only a few of the smaller species are suited for the aquarium.
Diet consists of meaty-type foodstuffs and they seem to be able to eat their weight in food on a daily basis. Some prefer to hid in caves and under ledges, therefore provide with sufficient hiding places.
For in-depth information concerning these interesting fishes (except Soapfish), checkout Reef Fishes Volume 1 by Scott Michael (ISBN #1-890087-21-1). You can see a review of this exquisite book by visiting my Product & Book Review page.