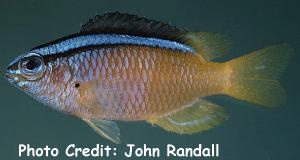 Chrysiptera caeruleolineata


(Allen, 1973)
Blueline Demoiselle, Blueline Damselfish
Likely Reef Tank Suitable
Likely Fish-Only Tank Suitable
These fishes belong in the Order Perciformes and Suborder Labroidei as members of the Family Pomacentridae (Damselfishes) consisting of 4 subfamilies, 28 genera, and about 321 species. These fishes are among the most popular in the marine hobby because they are fairly small, inexpensive and quite colorful. They are probably the most widespread family of reef fishes, having species in every tropical sea in the world. And even though some aquarists do not think of Anemonefishes (Clownfishes) as being damselfishes, they are indeed one of the four subfamilies, i.e., Amphiprioninae. The other three subfamilies; Chrominae; Lepidozyginae; and, Pomacentrinae contain what aquarists generally think of as damselfishes, with species of interest coming only the first and third subfamily.
As to their popularity, these are often the first inhabitants in many aquaria, as they are quite hardy and disease resistant besides being lively and eating most aquarium foods. Nevertheless, many have a feisty temperament, which I relate to them considering themselves whales and owning the aquarium, than small fish that should respectfully share their space with neighbors! And because of this territorial behavior, the aquarist must choose carefully because once in the aquarium, especially a reef aquarium with lots of hiding places, getting them out is going to be difficult at best.
And just because many are noted as suitable for reef systems, it does no mean they get along with their tankmates! So carefully read the supplied information about the desired species.