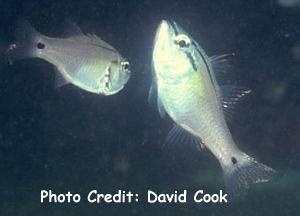 Apogon semilineatus


(Temminck & Schlegel, 1842)
Halflined Cardinalfish
Likely Reef Tank Suitable
Likely Fish-Only Tank Suitable
These fishes belong in the Order Perciformes and Suborder Percoidei as members of the Family Apogonidae (Cardinalfishes), which contains two subfamilies containing 22 genera and about 207 species.
These mostly small, peaceful, and generally nocturnal fishes, except for the Pajama and Banggai Cardinalfishes, are globally distributed. They are carnivorous/plankton feeders with generally large eyes and mouths, and somewhat colorful. Mostly found in caves and amongst coral branches and under ledges during the day, and searching bottom areas for food at night.
Cardinalfishes actually got their name because red is the main coloration in many of the species. Reproduction is by mouthbrooding, with male incubating the eggs. They can mostly be maintained in small groups and should have adequate caves and hiding places with subdued lighting. Their diet should contain vitamin-enriched foods and a color enhancer, such as Spirulina. Just keep in mind that once you place many of these fishes in the aquarium, especially those with lots of live rock, their removal becomes extremely difficult should it become necessary, i.e., they are eating your smaller fishes.
Furthermore, as of 2016 various species in the Apogon and Archamia genera have experienced numerous genus changes. Those described below will also contain their updated genus.