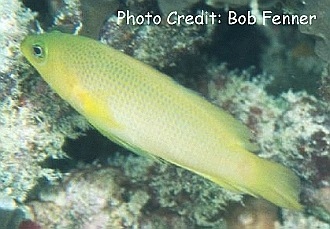 Pseudochromis fuscus


Muller & Troschel, 1849
Dusky Dottyback, Yellow Dottyback, Brown Dottyback
Likely Reef Tank Suitable
Likely Fish-Only Tank Suitable
These fishes mostly come from the Indo-Pacific Ocean, Red Sea and Western Pacific, and belong in the Order Perciformes, Suborder Percoidei and the Family Pseudochromidae, which contains 20 genera having about 120+ species. There also appears to be three new genera in the Subfamily Pseudochrominae: Manonichthys; Oxycercichthys; and, Pholidochromis, however, they have yet to be scientifically accepted.
Its Subfamily Pseudochrominae has the most species, about 60, which are ideally suited for 'some' home aquariums because of their small size, hardiness, easy to feed, disease resistance, and remarkable coloration. In the wild, these mostly shy fishes are found on coral or rocky reefs where they prefer to hide in reef holes or crevices and feed upon small crustaceans, polychaete worms, and plankton. But that's only half the story, as most are also quite territorial and chase away others, even those in their own genus. Making the right choice the first time around, therefore, is imperative if a dottyback is on your shopping list!
For much more information on many of the species mentioned below, recommend reading 'Basslets, Dottybacks & Hawkfishes' by Scott Michael ISBN 1-890087-33-5.